Hi all,
After the success of last years event

, I hope some of you will be keen to give this a go. It would be useful to get Saturday 8th September in the diary now, and an indication of those interested - please reply either here, or by email to me with a yes/maybe or no.
Format / Rules are pretty straightforward:
18 holes, individual stableford competition, played with FULL handicap allowance from the yellow tees. Each player must select 4 clubs to play the round, which MUST include a putter. Players may not carry any additional clubs during the round, and must be ready to play on the 1st tee at the tee-time shown with their chosen 4 clubs already selected.
Last year we played a straightforward stableford, but depending on numbers we could also do some form of team game this time.
As we will be sharing the course with others, I've proposed going for an afternoon time (tee times below: approx 1.20-2.10pm) - as playing with just 4 clubs can be a little more challenging than the usual 14! It is extremely important that we maintain a good pace of play, and the Stableford format has been chosen for this reason. If you reach a situation that you are not in a position to score a point on any given hole and are potentially holding up play, then please pick up your ball.
Last year Dave suggested a £5 entry per player. Providing everyone is happy with this, I suggest we do the same this year - with prize money to the best team and the top 2 individual scores. If we have to abandon the team event then this can be distributed between the top 3 / 4 individual scores depending on how many entries there are. If anyone has any other prizes they would like to 'donate' then please let me know.
As before, it is hoped this will provide the ideal opportunity to have a not-to-serious freindly bash, and perhaps get to know a few faces from the group whom we are not familiar with.
Would all in favour please say 'aye',
Dan
Last edited by Dan on Tue Sep 11, 2012 7:02 am; edited 14 times in total (Reason for editing : Update to details - as per 2011 event.)
Entries:

Confirmed ( 15 )
Adrian Cavaye, Alan Gough, Callum Regan, Daniel Laidlaw, David Bryce, David Gray, David Regan, Dorian Wiszniewski, Gary Crosbie, Jason Scott, John Hope, John Rose, Keith Smith, Paul Turner, Stuart Mackenzie.
Last edited by Dan on Tue Sep 11, 2012 7:05 am; edited 34 times in total
RESULTS
Thanks to all those who were able to turn out to compete in the second instalment of our 'annual' 4-club challenge. A great time was had by all I spoke to afterwards, and despite some tough playing conditions due to the recent hollow coring and top dressing of the greens, scoring was of a high standard.
I have checked the scorecards and here are the final scores. As you can see the scores were not quite as reported at the prize giving due to some errors in calculation of the Stableford scores by some of the card markers.
Gary remains victor in the individual standings with a terrific score of 37 points, which really is outstanding.
Because of an error in calculation, Callum, Adrian and Gary were awarded the Team prize at the prize giving; however, the three Dave's recorded the highest team Stableford score (the best 2 scores counting from 3 on each hole) with a whopping 83 points.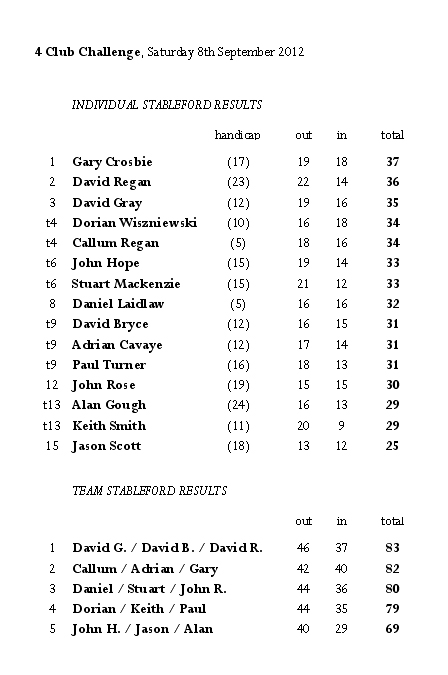 ---
Permissions in this forum:
You
cannot
reply to topics in this forum